One cannot deny that every bride wants to look her best on the D-day. And why not, it is the one day where every eye will be on you. You are the celeb of the event, and you should feel and look gorgeous. But with our daily lives filled with work and house chores, our beauty regimes do take a back seat. Worry not, we are here to help you get that healthy glow back.
While for every woman the goal for the wedding day might be different, there are some elementary beauty tips that need to be followed by everyone. Here are some pre-wedding and during-wedding treatments that every bride should indulge in!
Explore More About : Best Ways To Apply Makeup Correctly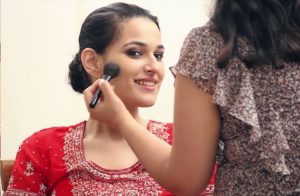 • Skincare work before the wedding!
At least two weeks prior to the final day, start a strict skincare regime of:
o Cleansing
o Toning
o Moisturising
Do this twice a day, every day for two weeks and by the time the wedding date arrives your skin will be fresh, free of blemishes and radiant. If you are applying makeup in the day, remove all of it before you follow the regime. This step is crucial to keep the skin free of bumps and pimples. For those women, who have never tried any skin care products or thinking of using a new one, do a patch test. You don't want a blotchy or spotty face on the final day!
• Don't forget the rest of the body!
The one error brides tend to make is to focus on the face and forget the rest of the body. Ladies, it is just as important. Our tip is to opt for body wraps and scrubs. A sugar and fruit scrub is an all-natural way to give the entire body a glow. A wrap, on the other hand, is perfect for decreasing cellulite and making the body appear slim. Body Massage at Spa Centre boosts blood circulation and works best for nourishment of the skin. It gives a relaxation to your mind and brings out the best glow on the D-day.
• Bridal makeup is indeed the key!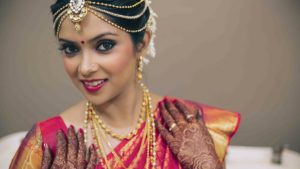 No matter how beautiful a person is naturally, makeup can enhance the effect. It is an appreciated fact. Therefore, pick your bridal makeup artist and hairstylist with utmost care. The best way to do so is to get a trial done about a month or so before the nuptials. It will give you a fair idea of how good the artist is and how well they match your vision of makeup. Also, research makeup styles and hairdos. Find the one that fits seamlessly on your face cut and skin tone. You want to look like yourself as much as possible.
• The details really do matter!
At the end of the day, the entire getup really pops when attention is paid to every little detail. Our last tip is to focus on your nails. It is common to get snaps of the wedding ring, so you want your hand to be drop-dead gorgeous. So, get a phenomenal bridal manicure a day or two before the wedding.