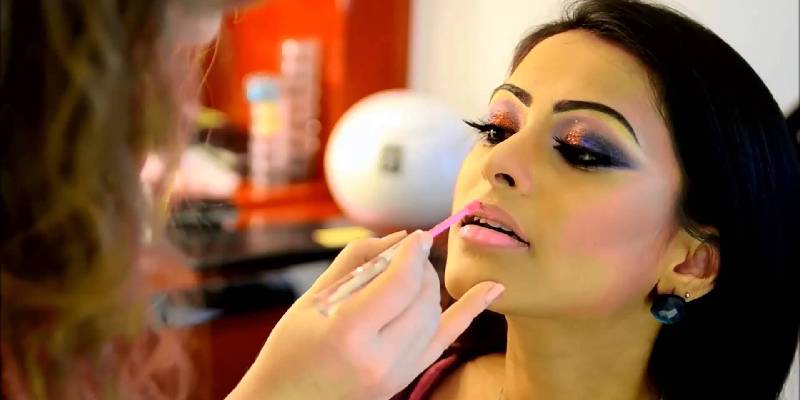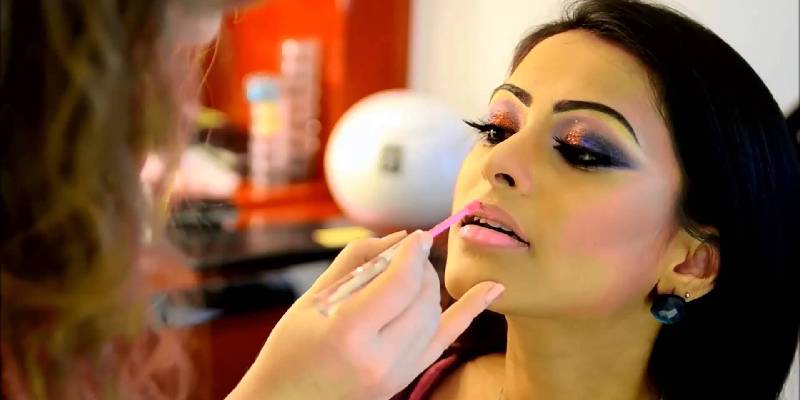 Makeup is an essential part of the fashion world. The makeup industry is constantly evolving with new trends coming out every other day.  Here are a few of the latest makeup ideas that have hit the fashion world by storm:
The fashion industry has always been fascinated with glitter. It comes as no surprise that glitter flecked skin is the latest makeup trip. It consists of dusting glitter over your foreheads and hairlines to give you that extra pizazz. If you prefer to have minimal glitter, you can also use iridescent cream over your cheekbones and lids for that subtle hint of glitter.
The punk rock lids have been the latest rage in eye makeup in the fashion industry. You can pair it with glowing skin for a cool look that will definitely get you noticed anywhere.  This easy to create look requires only some charcoal grey eyeshadow and a smudging eye brush.
You can get the Twiggy inspired eyelashes look by applying a layer of mascara and press the lashes together for a spiked look. This look was actually quite popular in the 80s thanks to the supermodel Twiggy at that time. This look has been making a huge come back in recent times.
This staple look has always been in fashion since the past couple of decades. You can get crimson lips with a glossy finish to stand out in any crowd. This look works extremely well in spring and summer when bold colors are in vogue. Remember not to accessorize too much when you have glossy red lips.
The neon pallet has been a huge hit at fashion shows across the world last year. It adds a vibrant dash of color to an otherwise subtle look. Many models have been seen using the neon pallet to draw attention to their eyes for a more dramatic look.
Explore More About : Best Eye Makeup Ideas To Look Younger!!
Full eyebrows are the latest n eyebrow fashion today. If you are not blessed with thick eyebrows, you can take the help of tinted gel to fill up your brows and get a more filled in and defined look.
The black eyeliner is a staple in every woman's makeup case. Using it to ass a tiny V in the inner corner of the eye is the latest trend using this versatile makeup product. It adds a spin on the classic cat eye and creates an alluring look that is easy to recreate at home.
If you like smokey eyes, you will definitely like the latest smokey, peachy eye look that is in vogue currently. It involves using warm peach tones to create a smoky look and creating a super soft and hazy finish for that dramatic look.
If you like dramatic looks, the eyeliner is your best friend. You can use it to create super pointy, heavy eye looks that are heavier along the lashes.  You can pair this with a no accessories look to accentuate your eyes even more. Don't forget to wear the perfect black dress to look absolutely stunning with this makeup tip.
Long eyelashes have been trending in the fashion industry for a while now. If you are not lucky enough to be blessed with long lashes, you needn't worry. You can use false lashes and attach them to your eyelids with a bit of eyelash glue. In case you do not like super heavy lashes, you can even cut up the false eyelashes into different pieces and us only some of them to get a more natural look.
Foundation needs to be kept as light and breezy as possible to give you a more natural look. It also enables your skin to breathe and stay moisturized for a long time. Rather than applying layers of foundation, makeup experts recommend using a sheer layer of BB cream and you ready to go. This is a great idea if you use makeup daily.  With the makeup industry coming up new trends every week, it is a good idea to try using as little foundation as possible to keep your skin clear and allow it to breathe better.